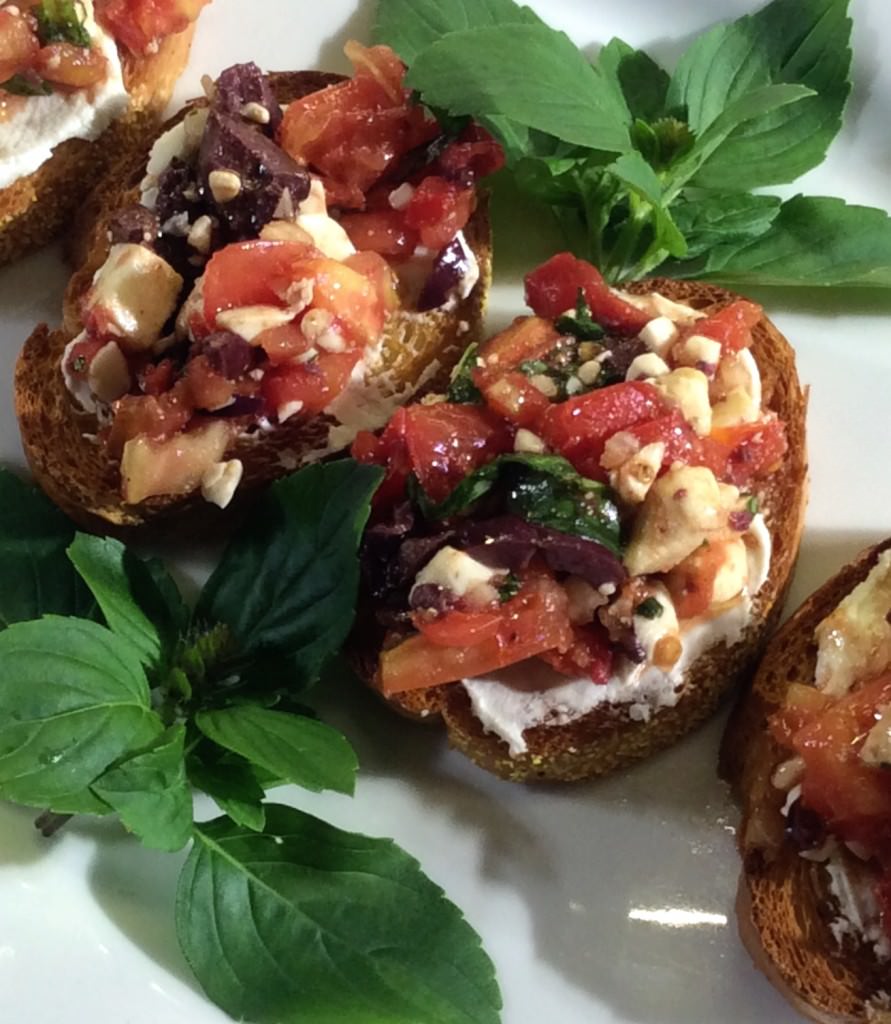 Fresh Tomato Mozzarella Bruschetta 
2 cups diced ripe fresh tomatoes
1 cup diced fresh mozzarella
½ cup Kalamata olives, pitted and chopped
2-3 cloves garlic, minced
¼ cup extra virgin olive oil, divided
2 tablespoons aged balsamic vinegar
¼ teaspoon sea salt
Fresh cracked black pepper to taste
1/4 cup fresh chopped basil
1 French baguette, sliced and brushed with olive oil
4 ounces spreadable goat cheese
In large bowl, gently combine tomatoes, mozzarella, olives and garlic. Drizzle with 2 tablespoons extra virgin olive oil, 2 tablespoons balsamic vinegar and season with sea salt and pepper to taste. Add fresh basil and stir.
Brush baguette slices with remaining extra virgin olive oil and grill until lightly toasted. Spread a light coating of goat cheese on grilled baguette slices and top with tomato bruschetta mixture. Garnish with fresh basil to serve.
****************************************************
This Fresh Tomato Mozzarella Bruschetta is what we created last night in the Edible Garden at "Cocktails in Garden" the Atlanta Botanical Garden!  It was quite scrumptious and the addition of the goat cheese on the toasted baguette was a really the crowning touch alongside the fresh tomatoes and basil from the garden!