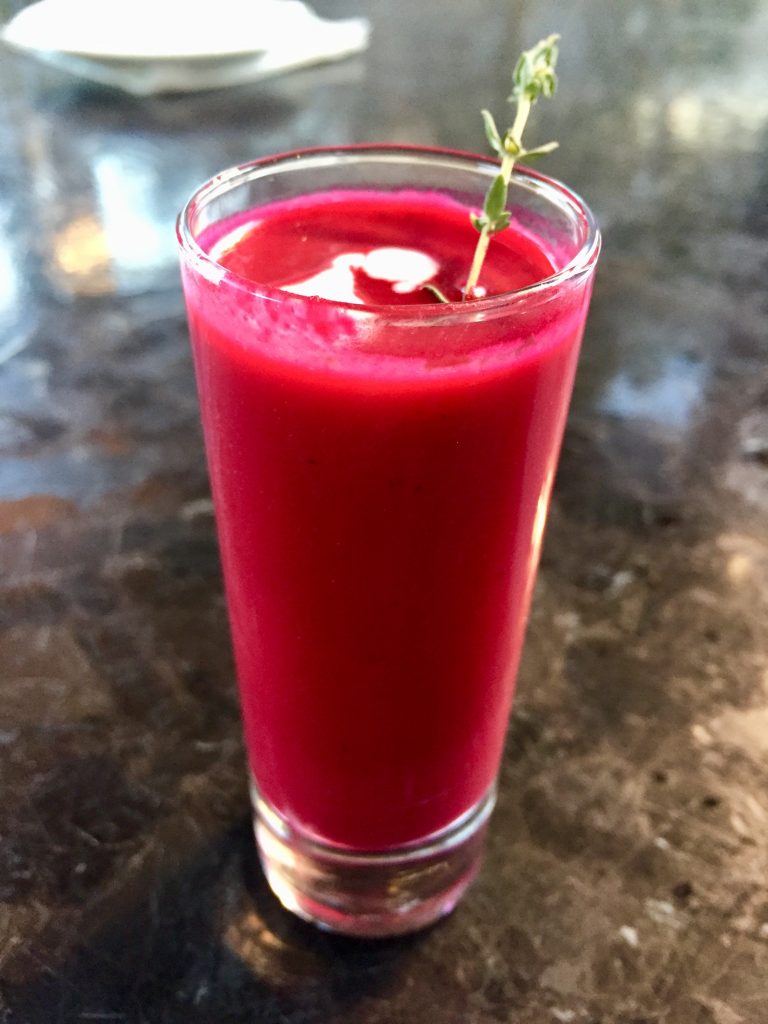 Roasted Beet Soup with Orange and Ginger
1 pound beets, washed and trimmed
3 tablespoons extra virgin olive oil, divided
1 large onion, sliced
2 garlic cloves, chopped
4 cups low sodium vegetable broth
2 teaspoons fresh thyme
½ teaspoon sea salt
Fresh ground black pepper
1-2 fresh seedless oranges, peeled and segmented
1-2 inch fresh peeled ginger root, chopped
1/2 teaspoon aged balsamic vinegar
¼ cup coconut milk
Preheat oven to 400°F.   Place trimmed beets on sheet of aluminum foil and drizzle with 1 tablespoon of olive oil.  Fold and wrap beets together in foil.  Place on a baking sheet and roast, until the beets are tender, about 45 minutes.  Let cool then peel and dice beets.
Heat the remaining 2 tablespoons of olive oil in a large pot over moderate heat. Add the onion and cook, stirring occasionally, until translucent and softened, about 3-4 minutes.  Add the garlic and cook, stirring, for a minute or two until fragrant. Add the diced beets, fresh thyme and vegetable broth, bring to a boil, and then reduce to a simmer for 10 minutes.
In blender, puree beet mixture while adding the orange and fresh ginger root. Transfer the puree back to large pot and heat to desired temperature while stirring in balsamic vinegar and coconut milk to blend.  Sea salt to taste.
Garnish with orange zest and a swirl of plain yogurt or coconut milk.
*********************************************
A chilly Spring evening at the Atlanta Botanical Garden is a good time to create a warm and luscious Roasted Beet Soup for our illustrious members on Member Night! The crowd was big but we all huddled together for warmth until the soup was served. This was originally going to be a Roasted Beet Salad but looking ahead to the chilly weather and being an outdoor venue, I transformed it into a warming soup while showing everyone how easy it is to roast beets and add loads of nutrition to their everyday eating lifestyle. We used blood oranges and red onion but those can be interchanged with other varietals as you see fit or what you may have on hand.
It is easy once you commit to finding a healthier way to live your life. There is no more time in this world to decide whether or not you are going to adopt a healthier lifestyle. It begins now. Start by eating your favorite vegetables. Decide now and live well. Cheers, Megan