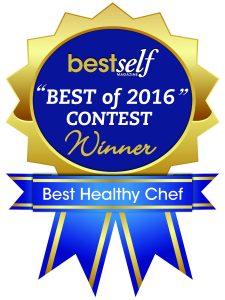 Chef Megan is always creating something fresh and tantalizing in the kitchen with her insightful and delightful healthy cooking classes!  She was just voted "Best Healthy Chef" in Atlanta with Best Self Atlanta Magazine!  She can be seen cooking it up at many venues around Atlanta including:
The Atlanta Botanical Garden
The Cook's Warehouse
Whole Foods Market-Salud Cooking School
Strippaggio – Artisan Oils, Vinegar & Specialty Food
The Leaning Ladder
Golden Isles Olive Oil
Whether it's Girls Night Out, Date Night or just being fabulous you, she shows you how to prepare quick and healthy dishes in your own kitchen!  Everyone has the golden opportunity to learn how to master healthier cooking with the Healthy Eating 101 lifestyle!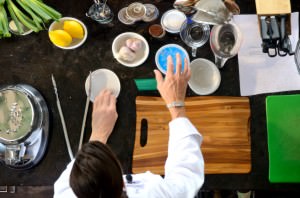 ATLANTA'S BEST HEALTHY COOKING AND LIFESTYLE CLASSES!  It's time for a lifestyle shift with your eating habits. Knowing what to prepare and how to prep it is the key to a successful eating lifestyle and is much easier than you think! Megan shares with you the powerhouses of nutrition that "Superfoods" can deliver.  Her deliciously healthy recipes are prepared with simple, clean flavors and loaded with antioxidants that deliver good health and well being.  She makes preparing healthier food to look effortless and shows you how to incorporate these highly nutritious foods into your everyday routine.  Working with Mother Nature's finest ingredients; blueberries and watermelon, coconut and quinoa, nuts and seeds, leafy greens and green smoothies, it can be effortless.  All the ingredients she uses are readily available and are packed with wholesome greatness. Learn to prepare wonderful recipes quickly and easily with your own personal chef while staying in budget and creating a super fabulous and energetic life! Vegetarian, Vegan, Raw, Paleo, Whole 30, Clean Eating, Dairy-free, Gluten-free, Plant-based friendly. Real food is real fun!
Upcoming Scheduled Classes for 2017: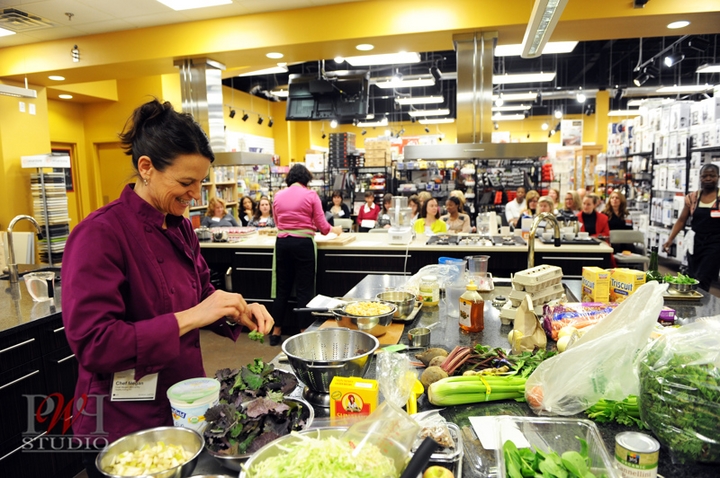 *********************************************************************
Garden to Table: Plant Power Cooking Class with Chef Megan
Wednesday, June 14  7-9pm
Join Chef Megan for a little plant power that is sure to perk up your energy levels. For those of you who are Vegan this is your class and for those looking for some healthy alternatives, this is the one for you. Chef starts with a Vegan Cauliflower soup and then segues right into an Avocado & Arugula salad. Roasted Sweet potatoes with a cilantro Lime vinaigrette and toasted Almond and Orange quinoa are sure to delight. Chef Megan ends the evening with a Superfood Smoothie with Chia and Hemp seeds.
$50.00 per person   http://www.leaningladderoliveoil.com/cooking-classes/
*****************************************************************

Friday, June 02, 2017
6:30 PM – 9:00 PM
GIRLS' NIGHT OUT: SPA NIGHT, SPA LIGHT
HANDS-ON & DEMO $55
With Chef Megan McCarthy
Summer is an ideal time to get the girls' together for a relaxing evening of fabulous pampering and bright, seasonal food. Megan McCarthy, edible garden chef and acclaimed healthy cooking expert, will show the ladies how to get their summer "glow" on with easy, tasty recipes and even a few essential oil beauty treatments. Grab your bestie and come join us for a special night. Wine will be served!  MENU: Vegan Lettuce Wraps with Black Bean Hummus and Microgreens; Baby Kale Arugula Salad with Roasted Radicchio; Superfoods Spa Smoothie with Chia and Hemp Seeds; Essential Oil Anti-aging Lavender Face Mask; and Essential Oil Citrus Salt Scrub.
      **********************************************************************
Chef Demos Each Weekend May-October on Saturdays and Sundays, 12:00, 1:00 and 2:00 pm.
*************************************************************
PRIVATE CLASSES also available:  megan@healthyeating101.com
FOR COMPANY BOOKINGS:
Book you next company "Lunch & Learn" or Team Building event with Chef Megan.  It is essential to keep your employees both healthy and happy.   Learning to cook healthy is the best thing you can do to support that while having a fun team building experience in the kitchen.  If you are a super cool boss, there is wine pairing also available upon request.  Book your event today!
Megan@healthyeating101.com or call 404-692-1015.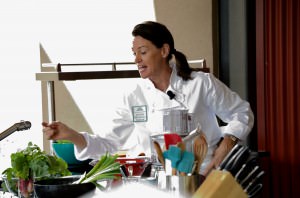 Email: megan@healthyeating101.com
Phone: 404-692-1015