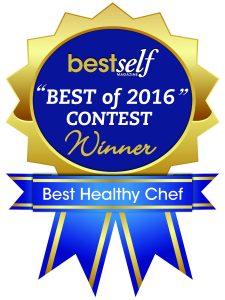 Chef Megan is always creating something fresh and tantalizing in the kitchen with her insightful and delightful healthy cooking classes!  She was voted "Best Healthy Chef" and "Best Food Blog" in Atlanta with Best Self Atlanta Magazine!  She can be seen cooking it up at many culinary venues around Atlanta:
The Atlanta Botanical Garden
The Cook's Warehouse
Whole Foods Market-Salud Cooking School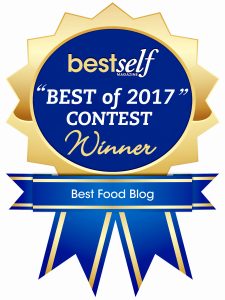 Strippaggio – Artisan Oils & Vinegar/
The Leaning Ladder/Golden Isles Olive Oil
Whether it's Girls Night Out, Date Night or just being fabulous you, she shows you how to prepare quick and healthy dishes in your own kitchen!  Everyone has the golden opportunity to learn how to master healthier cooking with the Healthy Eating 101 lifestyle!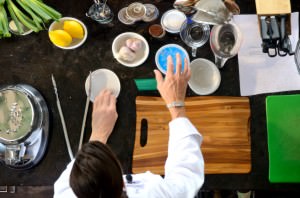 ATLANTA'S BEST HEALTHY COOKING AND LIFESTYLE CLASSES!  It's time for a lifestyle shift in your eating habits. Knowing what to prepare and how to prep it is the key to a successful eating lifestyle and is much easier than you think!  Chef Megan shares with you the powerhouses of nutrition that "Superfoods" can deliver.  Her deliciously healthy recipes are prepared with simple, clean flavors and loaded with antioxidants that deliver good health and well being.  She makes preparing healthier food to look effortless and shows you how to incorporate these highly nutritious foods into your everyday routine.  Working with Mother Nature's finest ingredients; blueberries and watermelon, coconut and quinoa, nuts and seeds, leafy greens and green smoothies, it can be effortless.  All the ingredients she uses are readily available and are packed with wholesome greatness. Learn to prepare wonderful recipes quickly and easily with your own personal chef while staying in budget and creating a super fabulous and energetic life! Vegetarian, Vegan, Raw, Paleo, Whole 30, Clean Eating, Dairy-free, Gluten-free, Plant-based friendly. Real food is real fun!
Upcoming Scheduled Classes: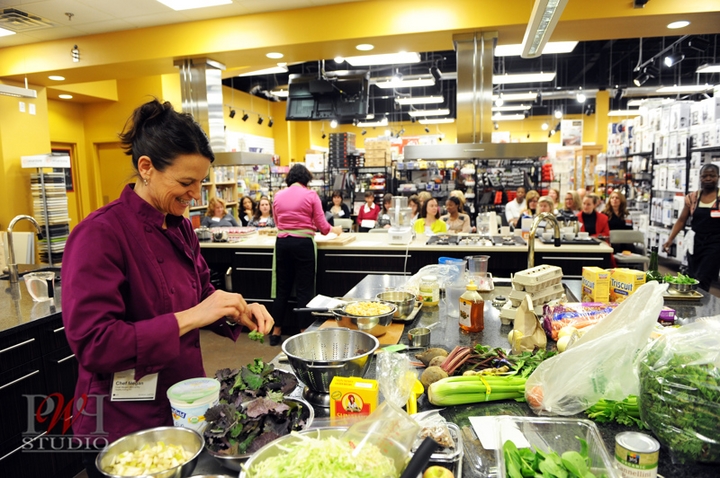 **********************************************************************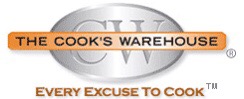 Spring Ahead with Healthful Eating
April 10, 2018
7:00 PM – 9:00 PM
It's time to pack up our sweaters and look towards warmer weather. Gardens are budding with green shoots and bright flavors – our cue to enjoy the light and fresh bounty of spring. Join Chef Megan as she highlights spring vegetables at their best.
• Spring Pea Hummus
• Radish and Endive Raw Salad
• Asparagus Farro Spring Brunch Salad
• Cedar Plank Salmon with Sesame Ginger Glaze
• Super Spring Green Smoothie with Maca Root
https://classes.cookswarehouse.com/classreg/public/classes.asp
The Cooks Warehouse-Midtown 1544 Piedmont Road, Suite 403-R Atlanta, GA 30324Phone: 404-815-4993
                                     **********************************************************************

Healthy Eating 101 Springtime Fare
Tuesday, April 24, 7-9:30 pm
Spend the evening with Chef Megan McCarthy, Edible Garden Chef at the Atlanta Botanical Garden, and founder of Healthy Eating 101. Enjoy a glass of wine on the house while Chef Megan teaches you how to prepare simple, fast, healthy recipes using fresh seasonal ingredients. You learn about healthy fats, Superfoods, organics and much more. The menu will include: Spring Pea Hummus – Endive and Avocado Spring Salad – Black Rice Salad with Roasted Leeks – Lemon Pepper Spring Asparagus – Cedar Plank Salmon with Sesame Ginger Glaze.
$45.00 per person
Call today to make your reservation 678-401-2609
https://www.leaningladderoliveoil.com/cooking-classes/
                                    ***********************************************************************

Fresh from the Spring Garden 
May 8, 2018
7:00 PM – 9:00 PM
Spring is a favorite time of the year for many people and it is certainly easy to see why. Nature begins to awaken with new color, we get to enjoy longer, warmer days, and our gardens begin to produce some of the best flavors of the season. Megan will help you to get a jump start on spring with this exciting menu:
• Strawberry Watercress Salad with Citrus Vinaigrette
• Fresh Holy Guacamole
• Wild Caught Fish Tacos
• Snappy Roasted Balsamic Asparagus
• Blueberry Delight Dessert
https://classes.cookswarehouse.com/classreg/public/classes.asp
Peachtree Station:
Peachtree Station Shopping Center (next to Whole Foods Market)
5001 Peachtree Blvd, Suite 520
Atlanta, GA 30341 – Map/Directions 
678-691-8600
                                ***************************************************************************


GIRLS' NIGHT OUT:  Spa Night, Spa Light
Friday, May 11, 2018       6:30 PM – 9:00 PM
HANDS-ON $55   With Chef Megan McCarthy
With Mother's Day coming up, it's a special time to get the girls' together for a relaxing evening of fabulous pampering and bright, seasonal food. Megan McCarthy, Edible Garden chef and acclaimed healthy cooking expert, will show the ladies how to get their "glow" on with easy, tasty recipes and even a few essential oil beauty treatments. Grab your Mom and come join us for a special night. Wine will be served! MENU: Vegan Lettuce Wraps with Black Bean Hummus and Micro greens; Baby Kale Arugula Salad with Roasted Radicchio; Superfoods Spa Smoothie with Chia and Hemp Seeds; Essential Oil Anti-aging Lavender Face Mask; and Essential Oil Citrus Salt Scrub.
Whole Foods Market Avalon    2800 Old Milton Parkway      Alpharetta, GA 30009                  Salud! Phone – (770) 442-3354 x2
*********************************************************************************

Simple Summer Garden Abundance
June 12,  2018
7:00 PM – 9:00 PM
As spring turns to summer, there is an abundance of natural foods available to us – why cook with anything else? Tonight, Chef Megan shows you how to make some of her favorite botanical recipes, such as:
• Strawberry Arugula Salad
• Lemon Pepper Asparagus
• Trio of Grilled Hummus platter
• Free Range Chicken Breast-3 easy ways
• Grilled Pineapple with Vegan Banana No Scream
https://classes.cookswarehouse.com/classreg/public/classes.asp
East Cobb:
Merchant's Walk Shopping Center (next to Whole Foods)
1311 Johnson Ferry Road, Suite 568
Marietta, GA 30068 – Map/Directions 
770-565-8005
                                 ************************************************************************
Chef Demos Each Weekend May-October on Saturdays and Sundays, 12:00, 1:00 and 2:00 pm.
*************************************************************
PRIVATE CLASSES also available:  megan@healthyeating101.com
FOR COMPANY BOOKINGS:
Book your next company "Lunch & Learn" or Team Building event with Chef Megan.  It is essential to keep your employees both healthy and happy.   Learning to cook healthy is the best thing you can do to support that while having a fun team building experience in the kitchen.  If you are a super cool boss, there is wine pairing also available upon request.  Book your event today!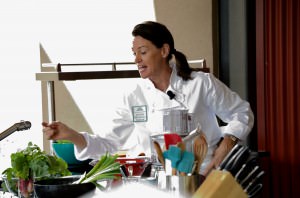 Email: megan@healthyeating101.com
Phone: 404-692-1015