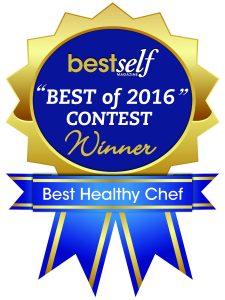 Chef Megan is always creating something fresh and tantalizing in the kitchen with her insightful and delightful healthy cooking classes!  She was just voted "Best Healthy Chef" in Atlanta with Best Self Atlanta Magazine!  She can be seen cooking it up at many venues around Atlanta including:
    The Atlanta Botanical Garden
The Cook's Warehouse
Whole Foods Market-Salud Cooking School
Strippaggio – Artisan Oils, Vinegar & Specialty Food
The Leaning Ladder
Golden Isles Olive Oil
Whether it's Girls Night Out, Date Night or just being fabulous you, she shows you how to prepare quick and healthy dishes in your own kitchen!  Everyone has the golden opportunity to learn how to master healthier cooking with the Healthy Eating 101 lifestyle!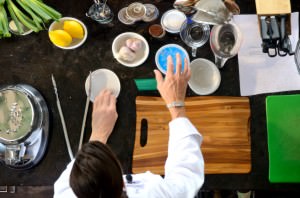 ATLANTA'S BEST HEALTHY COOKING AND LIFESTYLE CLASSES!  It's time for a lifestyle shift with your eating habits. Knowing what to prepare and how to prep it is the key to a successful eating lifestyle and is much easier than you think! Megan shares with you the powerhouses of nutrition that "Superfoods" can deliver.  Her deliciously healthy recipes are prepared with simple, clean flavors and loaded with antioxidants that deliver good health and well being.  She makes preparing healthier food to look effortless and shows you how to incorporate these highly nutritious foods into your everyday routine.  Working with Mother Nature's finest ingredients; blueberries and watermelon, coconut and quinoa, nuts and seeds, leafy greens and green smoothies, it can be effortless.  All the ingredients she uses are readily available and are packed with wholesome greatness. Learn to prepare wonderful recipes quickly and easily with your own personal chef while staying in budget and creating a super fabulous and energetic life! Vegetarian, Vegan, Raw, Paleo, Whole 30, Clean Eating, Dairy-free, Gluten-free, Plant-based friendly. Real food is real fun!
Upcoming Scheduled Classes for 2017: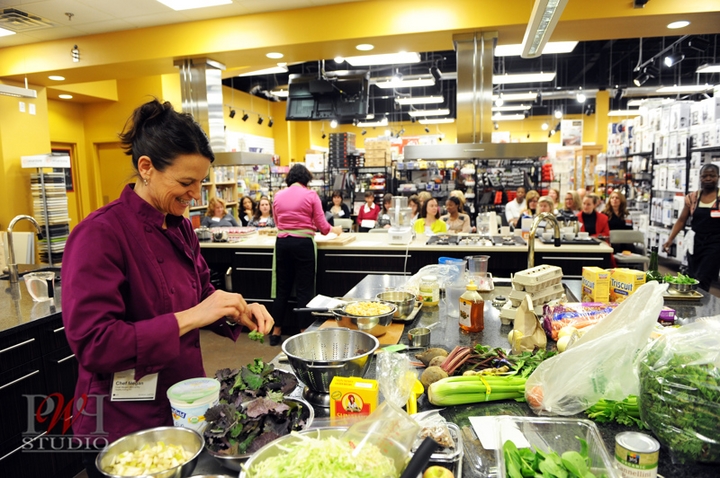 *********************************************************************
Summertime Farmers Market Harvest with Chef Megan
Tuesday, July 18, 7-9:30pm
Summertime has finally arrived in Georgia USA and with it comes all of the fabulous flavors of the season. Join Chef Megan in celebrating by preparing a meal straight from the Farmers Market and on to your plate! Menu will include Tomato Basil Goat Cheese Bruschetta, Strawberry Avocado Kale Salad, Black Bean Burgers with Avocado Puree, Crispy Roasted Okra, and a fresh Peach Crumble with Goat Cheese & Honey.
$50.00 per person   http://www.leaningladderoliveoil.com/cooking-classes/
*****************************************************************
Girls Night Out: Summer Harvest from the Garden (9920)
 Location Peachtree Station    9/12/2017   7:00 PM – 9:00 PM        $49.00
Getting together with the girls doesn't mean you all have to derail your healthy eating habits. Join us and learn how to host your own girls' night with food that will taste good while it also keeps you looking and feeling good! Share these delicious options at your next soiree:
• Grilled Zucchini Hummus
• Summer Garden Gazpacho
• Black Bean Burger with Spicy Avocado Sauce
• Tomato Caprese Salad
• Fresh Strawberries with Balsamic Sauce and Cashew Cream
https://classes.cookswarehouse.com/classreg/public/classes.asp
***************************************************************************

Thursday, September 14, 2017
6:30 PM – 8:30 PM
HEALTHY HARVEST WITH CHEF MEGAN
DEMONSTRATION $39
With Chef Megan McCarthy
What a pleasure to host Atlanta Botanical Garden chef and healthy eating expert Megan McCarthy tonight! She's bringing the delicious and the nutritious together for an autumn harvest-inspired class. Come re-invigorate your taste buds and stay on track through the season. MENU: Sweet Potato Soup with Fresh Thyme; Arugula and Pear Salad with Cranberry Pear Vinaigrette; Oven Roasted Salmon with Fresh Basil Pesto; and Nutty Pear Crumble with Cashew Crème.
      **********************************************************************
Chef Demos Each Weekend May-October on Saturdays and Sundays, 12:00, 1:00 and 2:00 pm.
*************************************************************
PRIVATE CLASSES also available:  megan@healthyeating101.com
FOR COMPANY BOOKINGS:
Book your next company "Lunch & Learn" or Team Building event with Chef Megan.  It is essential to keep your employees both healthy and happy.   Learning to cook healthy is the best thing you can do to support that while having a fun team building experience in the kitchen.  If you are a super cool boss, there is wine pairing also available upon request.  Book your event today!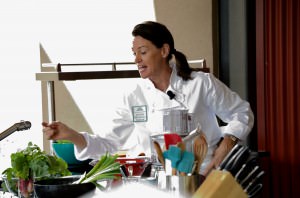 Email: megan@healthyeating101.com
Phone: 404-692-1015