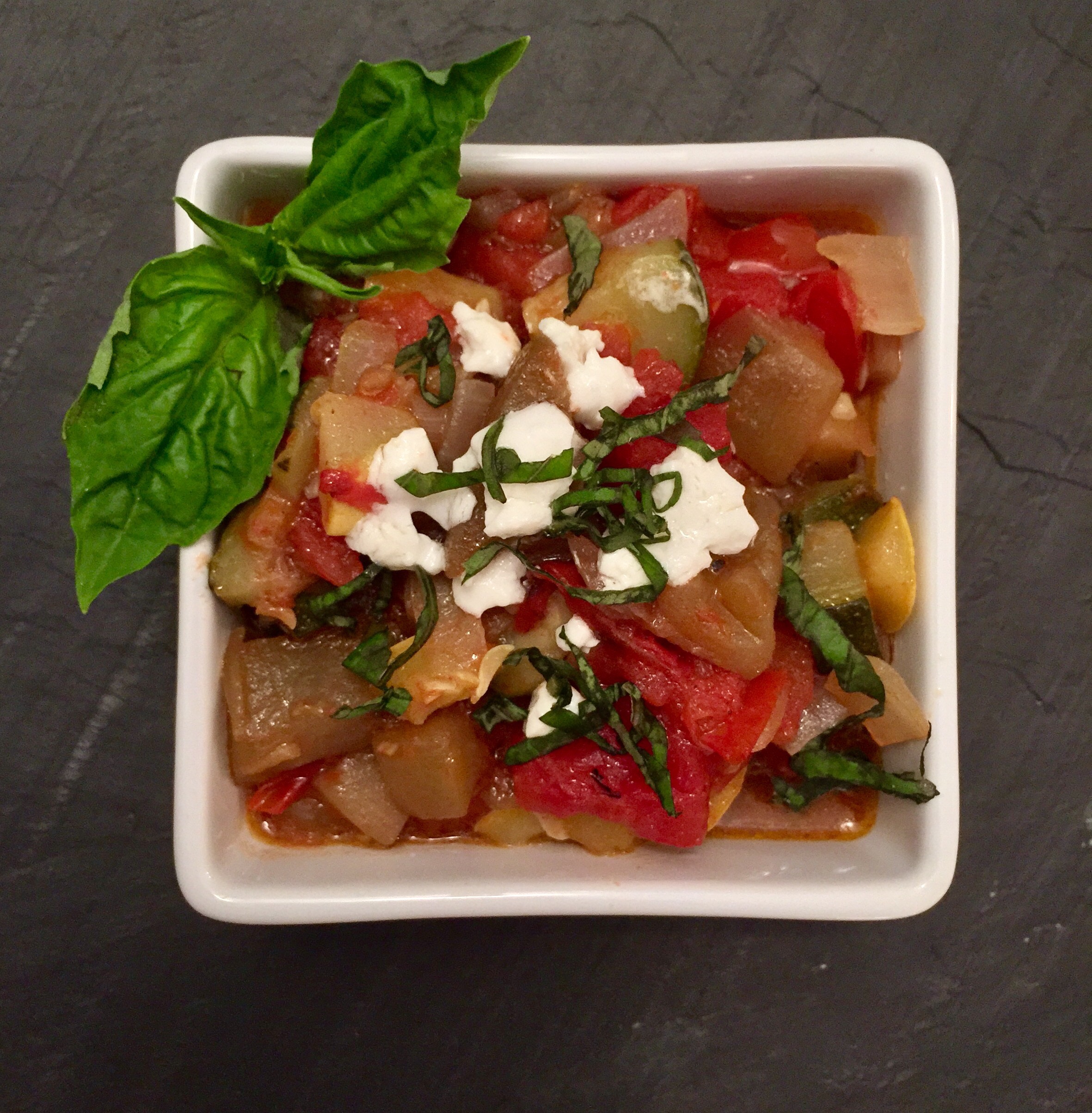 Garden Eggplant Ratatouille
4 tablespoons extra-virgin olive oil, divided
1 medium eggplant, peeled and cubed in 1/2-inch dice
1 sweet onion, thinly sliced half moon
2 snall zucchini, diced
1 red bell pepper, seeded and diced
3 Roma plum tomatoes, diced
4-5 cloves garlic, chopped
1-14.5 ounce can diced fire roasted organic tomatoes
1/4 teaspoon sea salt and fresh cracked pepper to taste
Pinch of crushed red chili flakes
1 tablespoon aged balsamic vinegar
10 fresh basil leaves, chiffonade cut
2 oz. crumbled goat cheese (optional)
Heat extra virgin olive oil in heavy-bottomed pot on medium and add cubed eggplant. Sauté eggplant for 5-7 minutes, adding water if needed. Add onions and sauté for another 3 minutes or until soft. Next, add zucchini and cook for 3-4 minutes before adding fresh diced tomato and cooking for an additional 3 minutes. Add fire roasted tomatoes, red chili flakes, balsamic vinegar, sea salt and fresh cracked pepper and let simmer for 10 minutes. Stir in fresh chopped basil and additional sea salt if needed. Top with crumbled goat cheese and chopped basil to garnish to serve.
Serve over bed of fresh baby spinach or pasta, rice, polenta, grits, or baguette.
Recipe by Edible Garden Chef Megan McCarthy