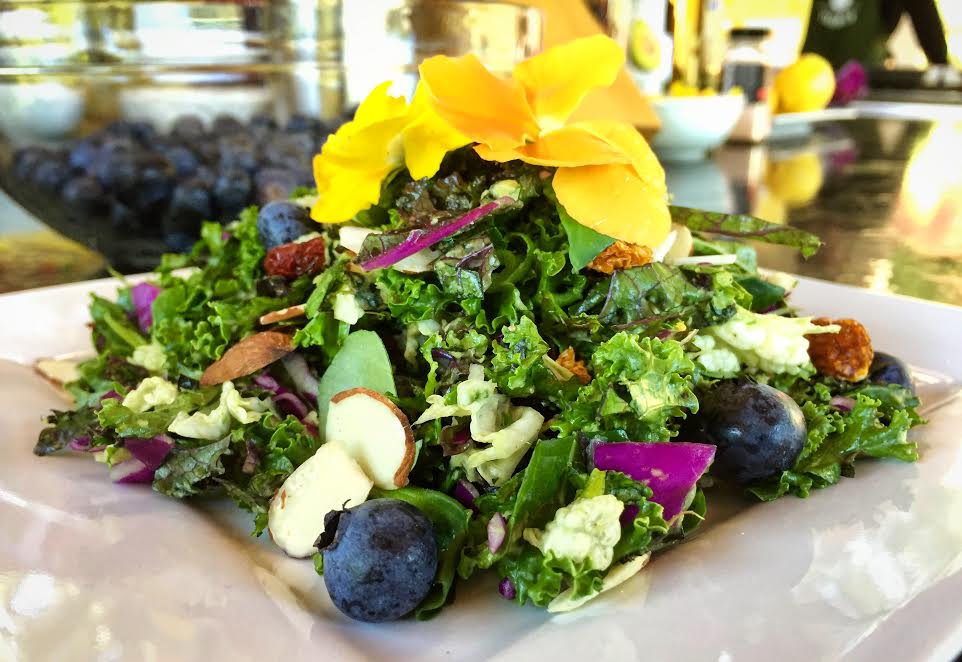 Garden Kale Superfoods Salad
4 cups chopped kale leaves, stems removed
1 cup shredded red cabbage
1 cup shredded Napa cabbage
1 large ripe avocado
1 tablespoon white balsamic vinegar
¼ teaspoon of Himalayan salt
Fresh cracked pepper to taste
2 scallions, chopped
1 cup watercress leaves
1 cup fresh blueberries
1/4 cup golden berries, chopped
1/4 cup dried cherries, chopped
½ cup sliced almonds, toasted
¼ cup raw pumpkin seeds
Massage chopped kale and cabbage leaves with avocado until coated. Drizzle kale mixture with white balsamic vinegar and season with Himalayan salt and fresh cracked pepper. Toss. Add scallions, watercress, blueberries, golden berries, dried cherries, almonds and pumpkin seeds and toss again to serve. Garnish with edible flowers.
Recipe by Atlanta Botanical Garden's Edible Garden Chef Megan McCarthy
**********************************************
And we're baaack in the Outdoor Kitchen and Edible Garden at the Atlanta Botanical Garden! This beautiful spring weather was perfect to kick off the new Atlanta Botanical Garden exhibit called Curious Garden and to return to the Edible Garden for a delightful chef demo with yours truly. The kale was abundant so we decided to create the most glorious kale salad with all the Superfoods added to it. Visitors enjoyed a 30-minute Garden Chef demo while learning how to use an avocado to soften up kale leaves to make a delicious and nutritious fresh salad. This recipe is so easy and full all the foods your body will love. The Kale Superfoods Salad not only tastes amazing but will keep you feeling great! A salad a day keeps the doctor away so green it up in your life with a healthy habit that will surely satisfy your culinary curiousities. Cheers, M