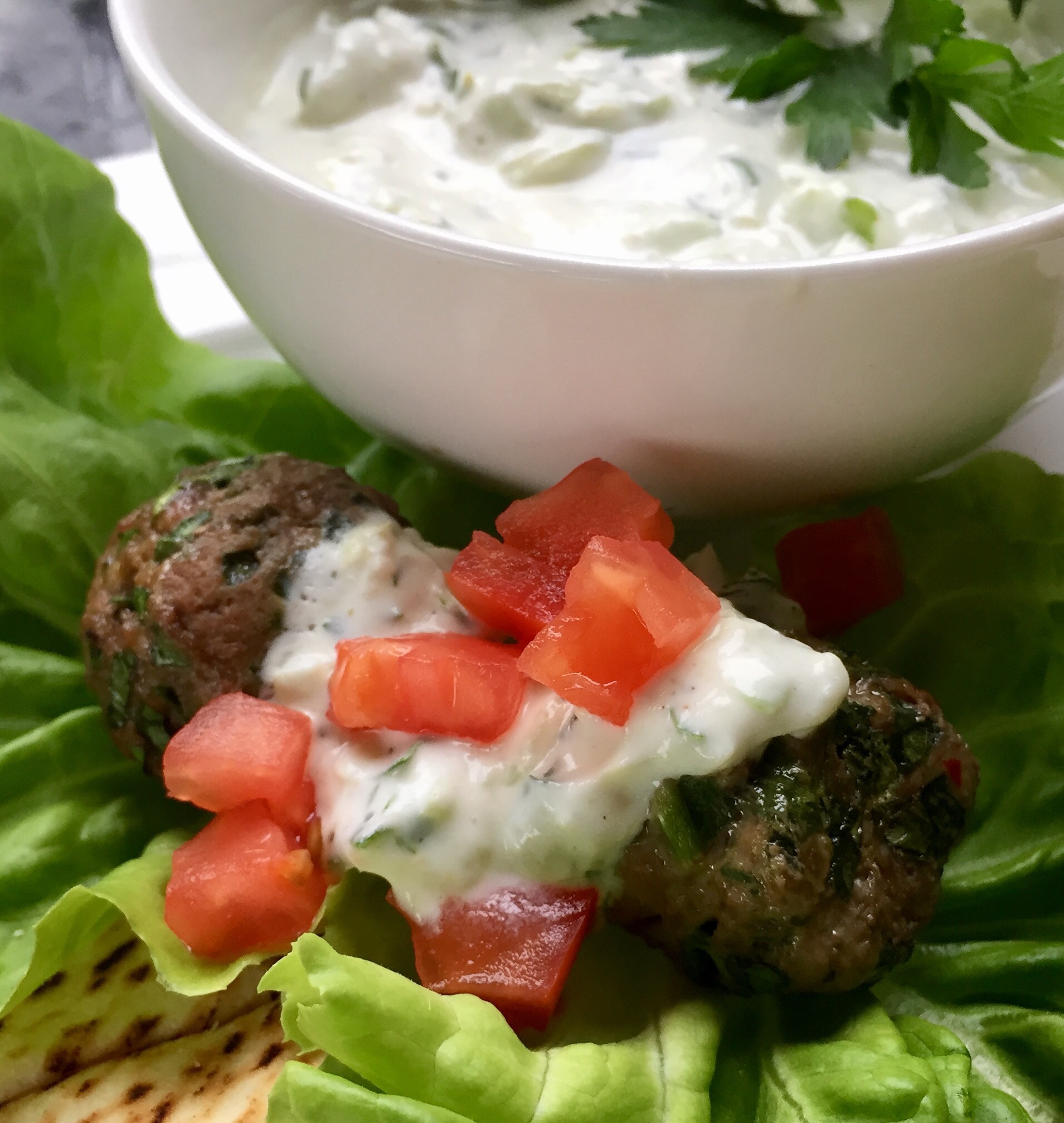 Lamb Meatballs with Cucumber Yogurt Sauce
1 pound ground lamb
1 teaspoon ground cumin
1 teaspoon red pepper chile flakes
½ teaspoon sea salt
Freshly ground black pepper
1 cup finely chopped fresh baby spinach
2 tablespoons chopped parsley
Preheat oven to 375◦. In medium bowl, combine ground lamb, cumin, chili flakes, salt and pepper and gently mix by hand. Add in chopped spinach, chopped parsley and mix again. Using 1 rounded tablespoon lamb mixture, form meatballs and place on baking sheet. Bake for 20 minutes.
Cucumber Yogurt Sauce
1 English cucumber, peeled and seeded
1 cup plain whole milk Greek yogurt
2 cloves garlic, minced
1 tablespoon extra-virgin olive oil
1 tablespoon lemon zest
1 tablespoon fresh lemon juice
¼ teaspoon sea salt
¼ teaspoon fresh cracked pepper
2 tablespoons fresh parsley, finely chopped
2 tablespoons fresh dill, finely chopped
1-2 tomatoes, finely diced (garnish)
In food processor using shredder blade, grate the cucumber. Place grated cucumber in fine mesh sieve and set aside to drain excess liquid.
In medium bowl, combine yogurt, garlic, olive oil, lemon zest, lemon juice, sea salt, pepper, parsley and dill. Stir in grated cucumber and mix thoroughly. Chill for 1 hour.
Place lamb meatball in a butter lettuce leaf or flatbread. Top lamb meatballs with yogurt sauce and chopped tomatoes to serve.
Recipe by Garden Chef Megan McCarthy
**************************************************
Oh how we love summertime and having an evening of culinary delights right from the garden! It was a hot and sultry night listening to the frogs on the lily pads but we had some gardening to do. Cucumbers are in season so one of my favorite sauces to make is the Cucumber Yogurt sauce to keep cool while enjoying the evening among the stars. The Lamb Meatballs are simplified by only having a few ingredients like fresh spinach and parsley and leaving out bread crumbs to keep it blissfully gluten free! These cook up in no time and cook while you make the cool and creamy Cucumber Yogurt Sauce. You can certainly use pita bread for your Lamb Meatball but the butter lettuce or just naked was a clean and glorious way to enjoy these quick and simple protein packed little lambs topped off with a sauce that is definitely a returning taste of summer. Bon Appétit!