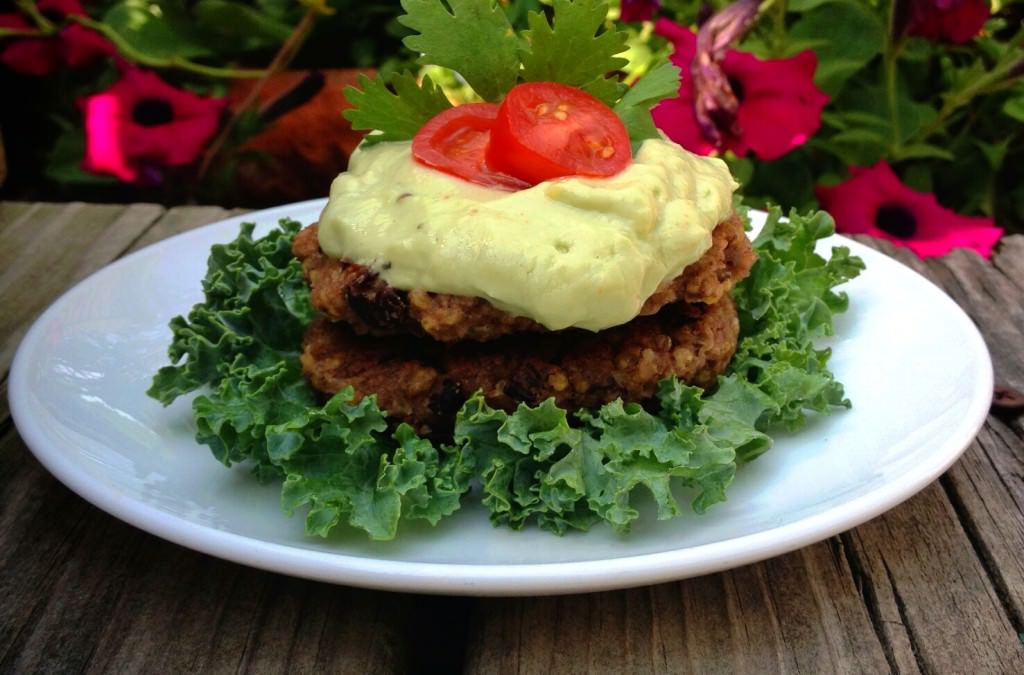 Millet and Black Bean Burger with Avocado Puree
1 can black beans, drained and rinsed
1 cup cooked millet
2 garlic cloves, minced
1 shallot, chopped
1 tablespoon extra virgin olive oil
1 teaspoon ground cumin
½ teaspoon sea salt
¼ teaspoon cayenne
¼ teaspoon fresh cracked black pepper
1 egg
½ cup panko breadcrumbs
In a medium bowl, press black beans with a fork until lightly mashed. Add cooked millet, garlic, shallots, and extra virgin olive oil and mix together. Season with cumin, sea salt, cayenne pepper, and black pepper. Stir the egg into mixture and then add bread crumbs until the mixture is sticky and holds together. Form mixture into patties.
Heat oiled sauté pan to medium. Place patties in pan and cook for about 3 minutes each side. Place black bean burger on favorite toasted slider bun or greens and top with Avocado Puree. Add finely diced fresh tomatoes to garnish.
Avocado Puree
1 clove garlic
1 ripe avocado
1 cup plain Greek yogurt
¼ teaspoon cayenne pepper
¼ teaspoon sea salt
¼ teaspoon fresh cracked black pepper
In food processor, mince garlic. Add avocado and Greek yogurt and puree until smooth. Season with cayenne, sea salt and black pepper. Blend again until smooth.
*******************************
Another great hit at the Atlanta Botanical Garden for "Cocktails in the Garden" last night!  A vegetarian's delight and a meat eater's surprise tasting a millet and black bean burger!   A grain-like seed, millet is a great addition to a plant based diet or those of you just taking a Meatless Monday.  It is full of fabulous and it's not just for birds anymore!  It contains many nutrients and B-vitamins and even said to help calm your nerves.  Who doesn't want a little more "chill" in their diet?  Even the Bible says it is a treasured crop.   Go make some millet.  It's as easy as boiling water. Add it to your meatless menu and enjoy.   Cheers, M