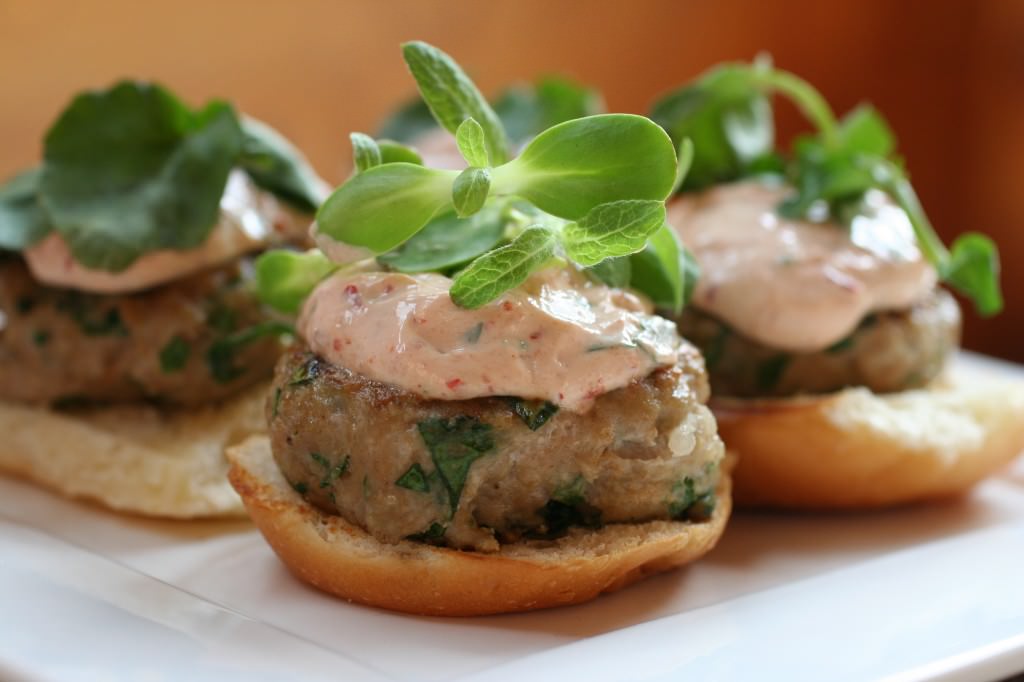 Savory Chicken Sliders with Spicy Chipotle Sauce
1 pound ground chicken
2 garlic cloves, minced
1 cup finely chopped baby spinach
¼ cup ground raw sunflower seeds
¼ cup finely chopped parsley
1 teaspoon ground cumin
½ teaspoon sea salt
¼ teaspoon freshly ground pepper
In large mixing bowl, combine ground chicken, garlic, spinach, ground sunflower seeds, parsley, cumin, sea salt and pepper. Mix ingredients together by hand until well combined. Shape mixture into small patties and place on hot grill or in an oiled cast iron skillet. Cook for about 5 minutes on each side or until clear juices appear.
Place on favorite toasted bun and serve with Spicy Chipotle Sauce.
Spicy Chipotle Sauce
7 ounce can chipotle peppers in adobo sauce
1 cup plain Greek yogurt
2 tablespoons chopped fresh parsley
In food processor, puree chipotle peppers until smooth. Measure 2 tablespoons of puree and store remaining chipotle puree in separate container in the refrigerator. Combine yogurt, 2 tablespoons of chipotle puree, and parsley and stir until blended.
***********************************************
This is the kind of delicious fare we show you how to make at "Cocktails in the Garden" every Thursday evening at the Atlanta Botanical Garden. Join us in the Edible Garden for Garden Chef demos between 7-9 pm for an entertaining and tasty experience!