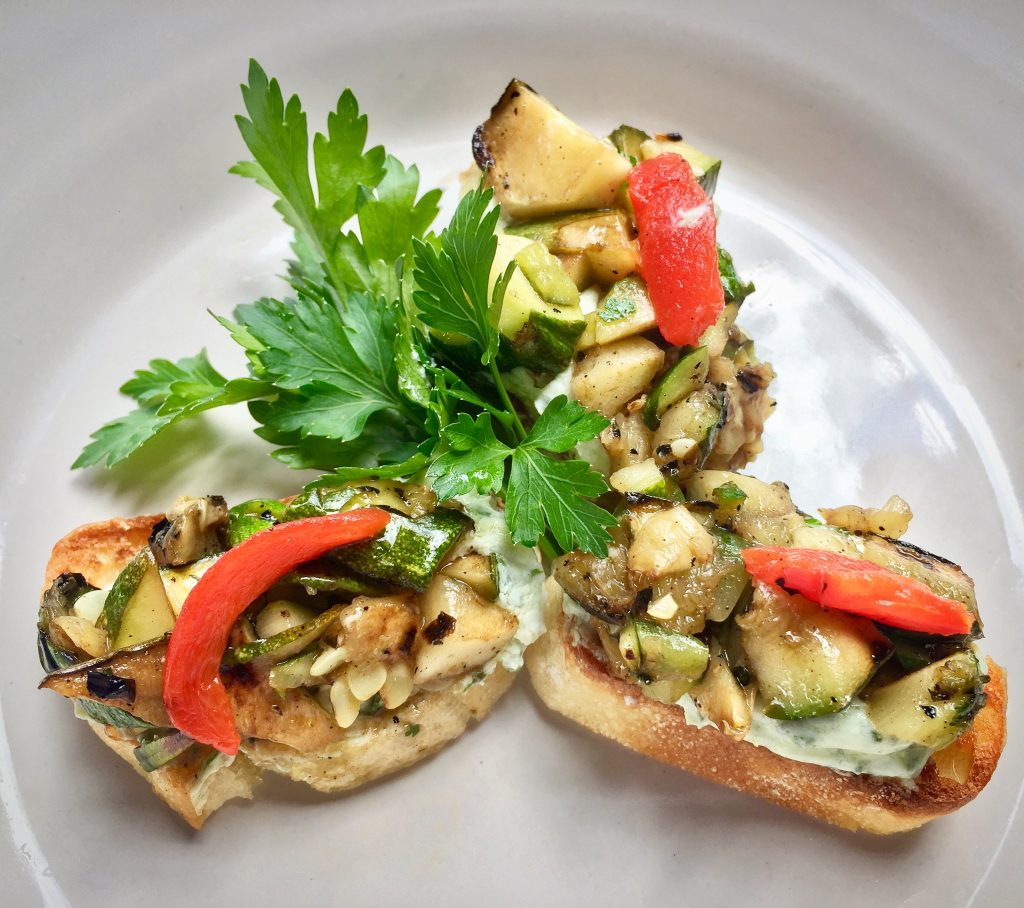 Grilled Zucchini Bruschetta with Garden Herb Goat Cheese
5 small zucchini, sliced lengthwise, 1/4-inch thick
¼ cup extra-virgin olive oil, divided
2 tablespoons aged balsamic vinegar
½ teaspoon sea salt
¼ teaspoon fresh cracked pepper
1 french baguette, sliced
For Herbed Goat Cheese:
2 garlic cloves
10 basil leaves
1 tablespoon chopped parsley
2 teaspoons fresh thyme
2 teaspoons fresh rosemary, minced
4 ounces mild soft goat cheese
1 tablespoon extra virgin olive oil
Sea salt and fresh cracked pepper to taste
Blend goat cheese and herb ingredients together in food processor and blend until desired consistency.
Preheat grill to 400◦. Thinly slice zucchini into 1/4-inch slices lengthwise. In a small bowl, whisk together 3 tablespoons extra virgin olive oil, 2 tablespoons balsamic vinegar, sea salt, and pepper. Brush zucchini slices with balsamic mixture. Arrange vegetable slices on hot grill and cook 3 minutes each side. Once grilled, let zucchini cool slightly then dice.
Brush each slice of baguette with olive oil and toast on one side until crisp. Spread herb goat cheese mixture on a toasted baguette slice and top with grilled zucchini to serve. Garnish with diced roasted red pepper and microgreens.