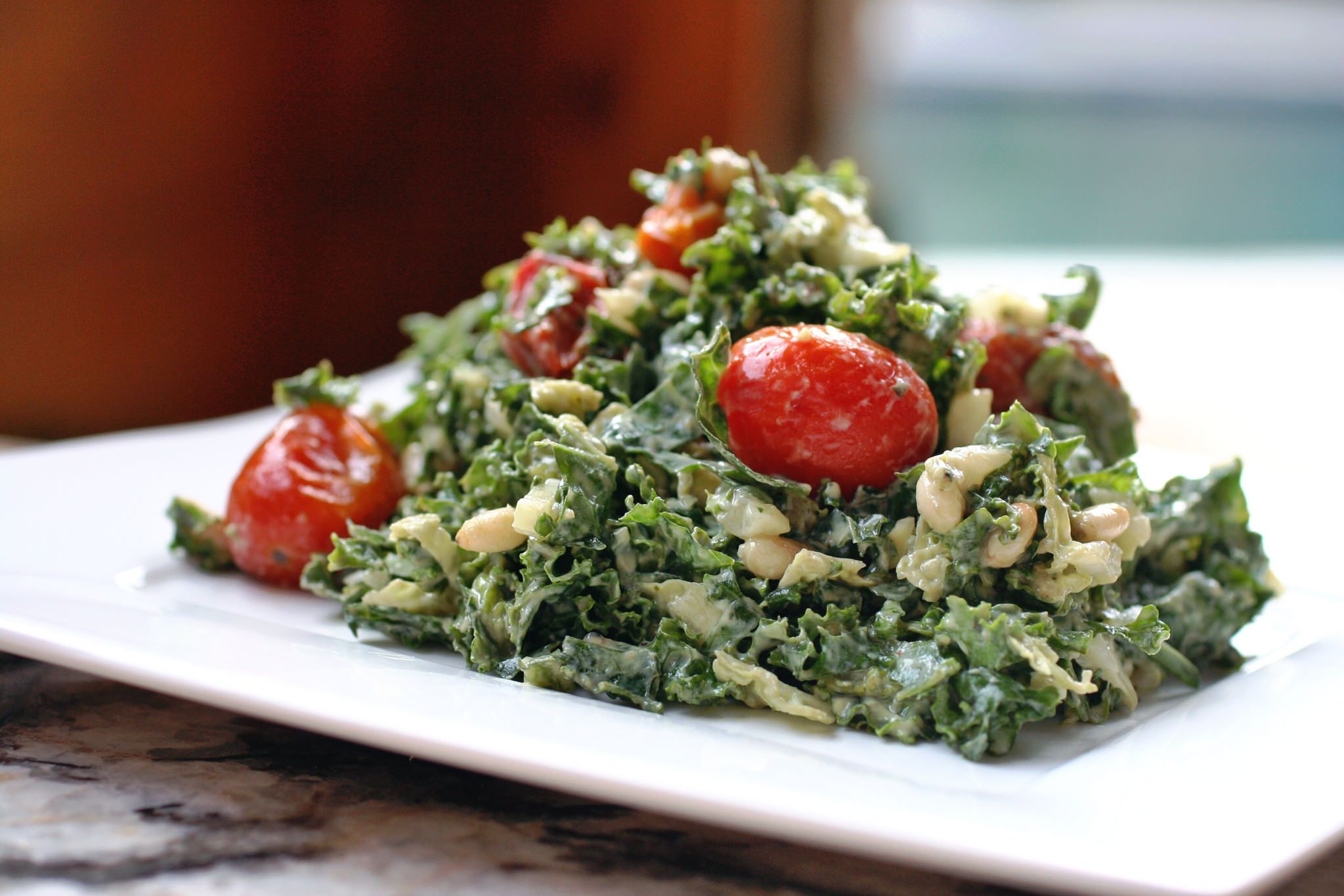 Napa Kale Salad with Creamy Avocado Sesame Dressing
1 pint grape tomatoes
2 tablespoons extra virgin olive oil
¼ teaspoon sea salt
For the Dressing:
2 cloves garlic, peeled
1 ripe avocado, seeded and peeled
1 freshly squeezed lime
½ cup plain Greek yogurt
1 tablespoon toasted sesame oil
¼ teaspoon cayenne pepper
½ teaspoon sea salt
½ cup cilantro leaves
½ cup pine nuts
3 cups shredded Napa cabbage
3 cup finely chopped kale, stems removed
Preheat oven to 400◦. Use baking pan with parchment paper and drizzle tomatoes with olive oil and season with sea salt. Roast in oven for 20 minutes. Remove from oven and let cool.
Mince peeled garlic in food processor before blending in avocado, lime juice, Greek yogurt, toasted sesame oil, cayenne pepper and sea salt and process until smooth and creamy.
In dry skillet, toast raw pine nuts for 3-4 minutes on medium heat until fragrant and light toasted.
Toss Napa cabbage and kale in large bowl. Pour avocado dressing on greens and toss again. Add toasted pine nuts and oven roasted tomatoes to serve.
Tip: Add pulled rotisserie chicken for added protein.
*****************************************
Another beautiful evening at the Atlanta Botanical Garden for "Cocktails in the Garden!" There are just a few more Thursday evenings left for this event until the end of the season.  Take advantage of this glorious southern autumn weather before it turns into pumpkins!
I was recently inspired to create a recipe that was a healthier version of what is regionally called a "Meat and Three," as I was dining in a remote area of Tennessee and found my lunchtime choices to be a bit limiting. I was offered a choice of Italian cuisine or a 'Meat and Three.' As a native northerner, I was struck by the fact that I had not yet been exposed to this term, even with a good many years of living in the South. Much to my colleague's surprise and my apparent lack of Southern culture, I chose the road less traveled for my own culinary curiosity. While I loved the idea of a Meat and Three, a choice of a meat and three sides, typically accompanied by sweet tea and cornbread, I didn't find that my options were quite within the optimal guidelines of a "healthier" lifestyle so I did my best and managed a meal, including cornbread and "unsweet" tea. With this culinary adventure in the hills of Tennessee, there it emerged; a greener version of a Meat and Three for the kale-lovin' crowd. This Napa Kale Salad paired with some delectable rotisserie chicken makes a fine combination for a delicious lunch or dinner AND contains a meat with 3 glorious vegetables that deliver a powerhouse of Superfood magic.  This may be just the ticket for a nutritionally upgraded alternative than to what comes out of a little ol' can of green beans. Cheers, with a glass of iced green tea, of course. MMM